The Chester Inn is an exclusive, off the beaten track, escape. Here you can relax enjoying a unique atmosphere that's delightfully rural, rustic and romantic.
Originally built as a pottery workshop for award-winning New Zealand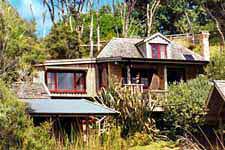 potter Chester Neallie, Chester Inn is now available as an exclusive fully self-contained holiday home. The cottage is secluded 50m away from the main homestead, on six magnificent acres.
With its adobe walls, old wharf beams, fire bricks and rough sawn timber, Chester Inn is a retreat full of creative ideas and artistic flare.
Inside the Cottage
The main bedroom has a comfortable queen size bed. There is a cute olde-world bathroom, and a separate, rustic, italianate shower room.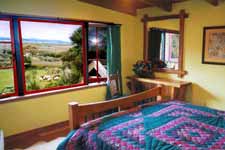 The kitchen has all you need, microwave oven, flat-cook-top conventional oven and fridge, and bar servery to a dinning area with truly massive swamp kauri-wood table and chairs. For those warm summer days there is a gas barbeque on the deck.
The spacious lounge has its own ambience with specially commissioned furniture and decorations, plus snooker table, stereo system and a TV/video. Set off from this lounge is a single bed mezzanine. There is a cosy attic snuggery with double bed and its own view over the wetlands.
Outside, the air is fresh, the environment is quiet, and various native bird species are to be seen and heard. With sweeping views across the Kaipara Harbour, the gardens harmonize with surrounding native Manuka, Kanuka, Pohutukawa, Mingimingi, Flax, Cabbage Tree and Mangrove.
Location
Chester Inn is a one-hour drive north from Auckland City, New Zealand. It is close to the friendly South Head Golf Club, horse trekking, trout fishing or surfcasting, walks at South Head Lagoon, Muriwai Beach and Mount Auckland. There are thermal pools and sky diving at nearby Parakai. Helensville offers the Pioneer Museum, harbour and river cruises, and fishing excursions. Lake Ototoa, only 5 minutes drive away is ideal for a picnic and fresh water swimming.
---
Hosts: Bruce Pitcher and Janet Milne
Phone number: +064 9 420 2000
Email: jmilne@slingshot.co.nz
Website: www.chesterinn.co.nz
Summer Rate 2014/15:
$NZ 200 per night for two people (minimum two nights).
Additional people $15.00 each per night. Full breakfast provisions provided on request.