- AUCKLAND'S COUNTRY RETREAT & EQUINE CENTRE -
Accommodation & Corporate | Equine Facilities
HORSE VACATIONS
A great horse vacation awaits any horse lover, ranging from multi-day trail rides through the forest, lakes and beach to learning horse handling skills that will enhance safety and pleasure being around horses. Dune Lakes Lodge blend equal parts horses and luxury accommodation.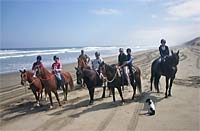 GUIDED BEACH & FOREST RIDES
Guided rides on our horses or your own. Ranging from one hour to two day rides. All year round mud free, off road riding.
NATURAL HORSEMANSHIP
Learn how to work, train and ride horses consciously & safely - in a manner which works WITH the horse's behaviour, instincts and personality in a responsive, easy and effective way.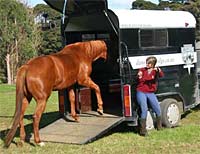 When a solid foundation of understanding is in place, confidence flourishes in both horse and rider. Every riding discipline and interest is suddenly accessible as the union truly becomes a partnership.
HORSE STARTING/ TRAINING
Based on trust, respect using a natural and calm approach. Horses are trained so that they learn through understanding, not fear. With body language, pressure and release and focused energy we communicate to our horses in a way he understands and accepts. Knowing how horses communicate with other horses & utilising that language enables this kind & gentle approach to horse starting.
KIDS/ADULTS CAMPS & WEEKEND SPECIALS
Fun weekend & holiday riding camps available for every age, level of experience or riding discipline, on your own or with a group. Learning natural horsemanship skills will improve
horse/human relationship, safety on & around horses, competition results & life skills. Develop sound groundwork skills which will be incorporated into your flatwork riding, jumping lessons & trekking. Including horse/pony or grazing for your own horse, accommodation, meals, tuition, supervised guided rides. Campfire & lake swimming with horses – weather permitting.
EQUINE FACILITATED CORPORATE TEAMBUILDING
A unique, experiential, non judgemental environment which allows the horse to 'mirror' individual behaviour, perception & performance in a team-building task situation. Gain more fun, more freedom, more consciousness & more awareness of talents, capabilities & skills.
The team building aspects of interaction with horses is indescribable and a truly life changing experience. Walking into a pen with an unknown horse and walking out with one that has connected with you is nothing short of miraculous and a deep soul-nurturing event. The qualities that work so well with horses transfer directly into the corporate and management world. The challenges will highlight each person's strengths and weaknesses. Traits like confidence, respect, patience, flexibility, humility, close observation, empathy, and trust will rise to the surface and take on a new meaning. In the debriefing process time is given in translating the long term benefits of this highly challenging real life interaction with horses.
Would this add value to your position in the corporate world? What are the infinite possibilities of your company benefiting from this?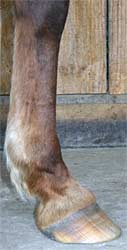 SOUND HORSES … NATURALLY!!
A High Performance Barefoot Horse is not just a horse without shoes. It is a change in long-standing beliefs about what is proper horse keeping. It is a horse that is given the basic biological requirements for health, long life and soundness.
From this lifestyle, the barefoot hooves become strong, healthy, and fully functioning, and the entire immune system of the horse is strengthened naturally. Many hoof conditions such as laminitis, navicular, ringbone, contracted hooves, poor hoof quality & a host of other chronic illnesses & lamenesses can be completely healed, and other systemic problems (such as allergies and metabolic problems) can disappear. There are basically 3 main parts to Natural Hoofcare, each an integral part of the whole system. For more information on this and the following contact Dune Lakes Lodge Equine Centre:
Physiologically correct barefoot trimming
Seminars (learn to trim your own horse)
Rehabilitation for lameness problems
Info talks
Horse pre-purchase assessments.
---
Email: info@dunelakeslodge.co.nz
Land line: Ph: 0-9-420 20 40
Rosemary: Ph: 021 39 39 58
Address: 470 Wilson Road, RD1, South Kaipara Head, Helensville 0874.
Website: www.dunelakeslodge.co.nz
Directions:
Take SH16 to Helensville. At the roundabout take the South Head/Parakai road for 18km. Go past the hot pools. Wilson Rd is the first left after passing the turnoff to Shelly Beach. That's less than an hour from central Auckland!