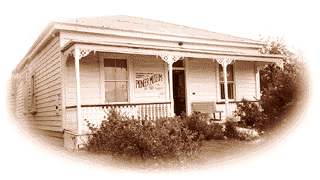 Riverside Reserve, Mill Rd, Helensville
Ph Museum (during office hours) 09 420 7881
Administration: Lynn Millar 09 420 7881
---

Visit Helensville Museum's website
Helensville Museum is housed in an historic cottage, the old Helensville School House and the old Helensville Courthouse on the Riverside Reserve, plus a selection of other buildings at the southern entrance to the town.
The courthouse (built 1864) has the judge's bench and chair, prisoner dock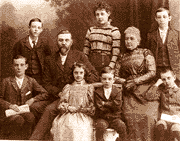 and witness stand still intact. The cottage is appropriately furnished for the Edwardian era, with an annexe displaying the social history of the district.
The Old School House was built for the Headmaster in 1883; in 1977 was converted for use as a multipurpose school hall, and donated to the Historical Society when the new school hall was built. In its museum role it houses the office, the research room, and the Kaipara Room, featuring Maori artefacts from the Ngati Whatua tribe, the history of kauri gum, milling and shipping. A large wall map of the Kaipara Harbour pinpoints wrecks and strandings.
The Museum has comprehensive photo collections on houses, business activities, social life and all the local schools. Information and portraits of pioneer families of the district, cemetery records, newspapers and documents and oral history tapes also feature in the research material collection.
Hours of opening:
Museum: Monday & Tuesday 9am - midday; Wednesday 9am - 3.30pm; Thursday & Friday 9am - midday, Saturday and Sunday, 1pm - to 3.30pm
Research Room: Monday to Friday 9am to midday, or at other times by appointment
Admission: Adult $10.00, Senior Citizens $8.00, College Students $2.00.
Primary school children accompanied by an adult, free.
Postal Address: Box 133, Helensville
Phone: +64 09 420 7881
Fax: +64 09 420 9241
Facilities: Wheelchair access; guided tours; museum brochures; tourist brochures; membership club; functions-charters; toilets; parking.

For information of other museums in New Zealand, you can visit New Zealand Museums Online.